Something to think about
Meaningful funerals are rites of passage that help us move from life before a death to life after a death. They help families and friends support one another, embrace their feelings and embark on the journey to transcendence.
You come into this world being held and loved and you should leave this world the same way
Welcome to Carson Funeral Homes
Thank you for taking the time to visit our web site.
A great deal of time and effort has gone into providing this service to our community and the families we serve. We are constantly enhancing and updating the information in this medium and hope that you find it helpful and convenient. If you have any questions or would like to share any suggestions on how we could improve this site, please feel free to contact us. We value and encourage your input. We are here to continue to provide the highest standards for our community and to the families that we serve.
Few funeral homes in Canada can match Carson Funeral Homes for longevity or experience. We have been the "family" funeral home for thousands of client families for over 125 years. A tradition since 1878, we have provided full-service funeral arrangements for all faiths, within everyone's means through the generations.
Admirable though tradition may be, we pride ourselves in our ability to be a leader and innovator in a constantly demanding profession. We are proud of the more than 20 men and women of the Carson family . We believe that each one is a caring, understanding professional who takes pride in helping people.
COVID19 Update March 18, 2020
COVID 19 – Update #2 March 17, 2020
Guests of Carson Funeral Home
The staff and management of Carson Funeral Home have been monitoring the Covid-19 pandemic, and will continue to monitor the situation as it develops.
The health, safety and well being of the families we serve and their guests who attend funeral events as well as our staff is our top priority. We will continue to operate as we have while following the recommendations of Canadian public health authorities, and our governing body, the Bereavement Authority of Ontario.
With the guidance of public health authorities, we will no longer be offering PUBLIC CEREMONIES with more than 50 participants. We will work with all the families we serve on ensuring their grief needs are met with PRIVATE CEREMONIES (family invitation only ceremonies), and we will advise that we can organize a large public celebration of their loved one's life once the current public health situation clears.
We have stepped up our internal measures including but not limited to:
*Further elevating our already stringent cleaning and sanitization protocols;
*Restriction sizes on some gatherings.
*Restriction sizes of family members during funeral arrangements.
*Health questionnaire before meeting in our facility.
*Increasing accessibility of hand sanitizers for customers and employees at multiple stations throughout our facilities.
*Personal distancing measures (no hand shaking, separation during conversation, separation during the funeral/celebration/cremation consultation, no door opening, no coat hanging, etc.)
*Arrangements can be made by phone and e-mail when requested.
*Please call for an appointment before coming to our facility so we can understand your needs.
We thank you for your consideration and promise to serve our families with the utmost dignity and respect during these challenging times. If you have any questions about your options during this time, please do not hesitate to call. We remain open 24 hrs./day 365/year to serve you.
Recent Obituaries

Settled in the heart of historic Orillia is a beautiful and charming old funeral home. Filled with warmth and character, you will feel at home the minute you walk through the door.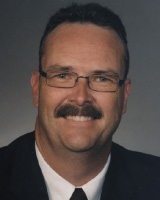 Jon Griffiths helps dozens of families every year preplan their funerals. He listens to what they want and works within their budget to come up with the best solution for them.

Nestled right in the downtown of Midland is the oldest funeral home serving Midland and area. Longevity stretching back to 1878 you will notice why J.H. Lynn Chapel has been the choice of so many families in Midland the moment you see it.