Man with a 'heart of gold' Remembered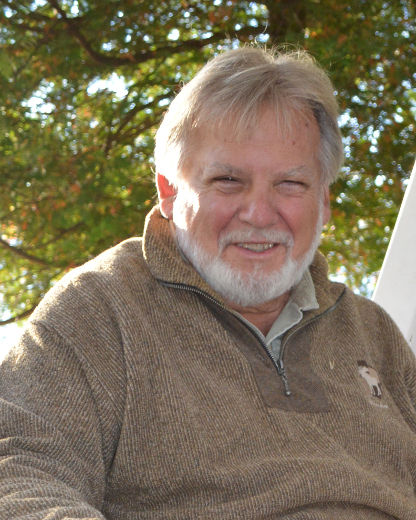 Bob Carson, who owned funeral homes in Orillia and Midland and volunteered for many local organizations, died Tuesday. A loving father and husband, he was also proud of being a funeral director for 50 years. In addition, he loved to travel and had an affection for vintage cars and boats.
Community remembers local businessman Bob Carson
Dave Dawson - The Packet & Times
Friday, January 24, 2014 7:45 EST PM
Bob Carson, a larger-than-life personality who poured his heart and soul into his family, his business and his community, died Tuesday while vacationing in Dutch St. Maarten. He was 72.
Carson came to Orillia in 1982 to purchase the Doolittle Funeral Home. For a young man with three young sons, it was a risky move that almost didn't happen. Owner George Crawford had better offers at the time.
"But he sold it to us because he thought we would be able to carry on and build on what he had started," recalled Ann Carson, Bob's wife of more than 40 years. "At that time, the funeral home had just a small, one-bedroom apartment, so we also had to buy a house … It was at a time when interest rates were over 20%. It was a big move."
A hands-on owner, Carson dove into his new role, taking pains to ensure every little detail was heeded. He jumped into his new community with both feet, joining several community organizations, planting roots that blossomed into a love for his adopted hometown.
Carson turned to funeral services as a vocation as a result of the care and compassion shown to him and his family when his father died. At the time, he was just 17 and the sudden death of his father was devastating.
"Not long after his dad died, he started working for the Humphrey Funeral Home in Toronto, living in the basement and going to school at night to get his licence," Ann recalled.
An entrepreneur at heart, Carson bought a small funeral home in Brooklin (near Whitby) in 1975. While trying to build the business, he became a real-estate agent and was elected to town council and headed the Brooklin Spring Fair.
But he was interested in building something bigger and jumped at the opportunity in Orillia. Over time, he nurtured and grew the business in Orillia, buying an adjacent century home that was transformed into a reception centre. He opened a second facility in Midland.
"To Dad, funeral service was his life," said Dave Carson, who manages the Orillia facility. "I am so fortunate that I got to learn from him — an opportunity he never got with his own father."
Dave, the youngest of three sons, said it's hard to imagine life without the family patriarch. He said he will miss his father's famous bear hugs, his advice and his presence — both at the funeral home and in his life.
"He was my dad, he was my boss, he was my best friend," said Dave. "He was going to be my best man at my wedding this summer … It's tough, especially, because we didn't have a chance to say goodbye."
While the suddenness and finality of Tuesday's heart attack was shocking, Ann, who was with her husband at the fateful moment in St. Maarten — where they loved to spend their winters — said he was talking and, suddenly, without warning, died.
"He didn't feel any pain," said Ann.
She described her husband as a loving, caring person whose family meant everything to him.
Rob Carson said his dad, a hockey goalie and a high-school football player in his youth, was larger than life.
"There was certainly nothing shy about him," he said. "He loved to talk to people. He was very well read and could talk about anything with anybody."
While growing up, the boys' friends were always welcome in the family's Neywash Street home, said Dan Carson.
"Dad was like a second father to a lot of our friends," he said, reflecting on long discussions around the dining-room table, the funeral home visible from the room's window. "He was very proud of his family, his business, his community. He just loved people."
He also loved to work with his hands. Whether it was restoring a vintage boat or enhancing the family cottage on Heron Island, Carson, who eschewed busy highways to traverse country roads, loved to build things.
"Every summer, there would be a project at the cottage," said Dave. "I think he was proudest of the octagon-shaped room he built. We all thought it was crazy. There were eight of us, holding these beams, and he was directing us like the commander-in-chief … but it worked. He had an incredible mind for things like that."
In recent years, Dave has taken on more responsibilities at the funeral home. It's been an eye opener.
"I just don't know how Dad did it. He had three kids, he's running the business, he's involved in all these community organizations … It's just amazing what he did," said Dave.
Despite his many obligations, Carson always found time for friends, said Paul Connor, whose family owned Connor Tire. He met Carson soon after he came to town, when he brought the vehicles from the funeral home to the Memorial Avenue shop for service. Over the ensuing years, the two became friends.
"Bob had a heart of gold," said Connor. "In my walk of life, I haven't met many folks who, as a father, a husband, a businessman, a member of the community … gave so much."
The two often socialized — as compatriots at the Masonic Lodge or the Shrine Club — and talked about owning a family business, succession or local politics.
"Bob was as happy in the company of kings as he was with paupers," said Connor. "He never put on airs and he loved to socialize. He was always the life of the party."
He was also there when his friends needed him, Connor said.
"When my brother died on Christmas Day two years ago, I didn't hesitate to call Bob at 6 a.m. and he was there for us," said Connor. "He was just one of those guys who was solid to the core. It's a heartbreaking loss to his family, his friends and the community."
It's also a loss to funeral services, said Rick Barnes, who worked with Carson in Orillia for two decades before buying the funeral home in Brooklin from him.
"I worked with Bob for 20 years and lived on-site … He was such a professional — very dedicated to what he did," said Barnes. "He was unwavering in his service to families and to the community. I learned a lot from him."
His loss also leaves a void in the community. Carson was a past master of Twin Lakes Lodge 718, past president of the Orillia Shrine Club, past president of the Orillia Chamber of Commerce and proud member of the Orillia Rotary Club. He was also a past member of the board of directors for the Georgian Bay Lung Association and the Salvation Army.
"He was the 100th president of the chamber and was instrumental in the waterfront revitalization," Ann said with pride. "He loved this place and his desire was to make it even better."
There will be three visitations for families and friends — Sunday from 2 to 5 p.m. and Monday from 2 to 4 p.m. and 7 to 9 p.m. at the Doolittle Chapel of Carson Funeral Homes (54 Coldwater St. E.). A funeral service and celebration of life will be held Tuesday at 11 a.m. at St. James' Anglican Church.