There are many service options available.
Please contact a funeral director for a no obligation consultation.
Traditional Funeral Service/Mass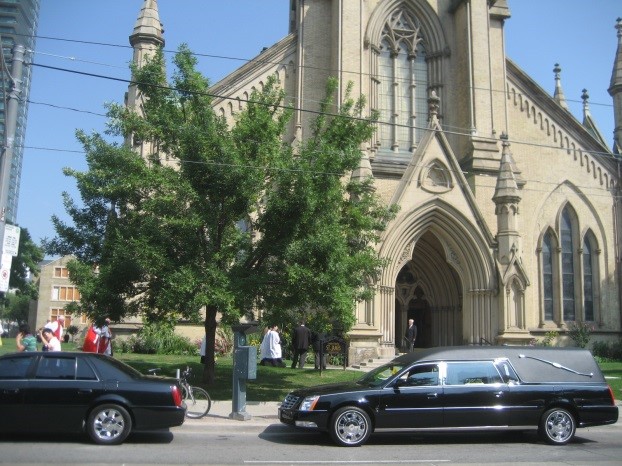 You can have a traditional service for either earth burial disposition or with cremation. This service can take place at a church or at the funeral home. When having a traditional service we have the deceased prepared for a visitation period and or a funeral service. This option allows for an open casket for family and friends to come and say goodbye. Or perhaps you wish to have a closed casket. It allows for a variety of visitation sessions or times. It provides an opportunity for community to come together and grieve and accept the reality of the loss. Most importantly, in grief work, it is important to view the deceased such that the stages of grief can adequately be worked through. Grieving is a process. There are many discussions on The Value of the Funeral and the value of an open casket visitation and funeral service Seeing is Believing. This process also allows for a very Personalized service.
There are many stages for grief work as anyone who has gone through the process realizes. Elisabeth Kubler-Ross broke grief into three stages. Unfortunately those who do not take the opportunity to say goodbye and face the reality of the loss often get stuck at the first stage which is denial.
Memorial Services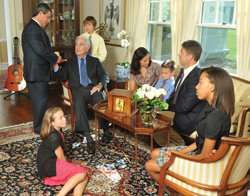 Memorial services are services of recognition without the body present. Often takes place after cremation or burial have taken place. This option still gives the family an opportunity to say their private goodbyes to their loved ones before cremation or burial takes place, but the public service is held with cremated remains present/not present, pictures, or other memorialization tools. This option allows for all the same memorialization of a traditional funeral but without the benefit of giving the community the opportunity to say goodbye to the deceased in the physical sense. The Value of the Funeral still takes form in this process through grief being shared and can still be Personalized in many ways.
Receptions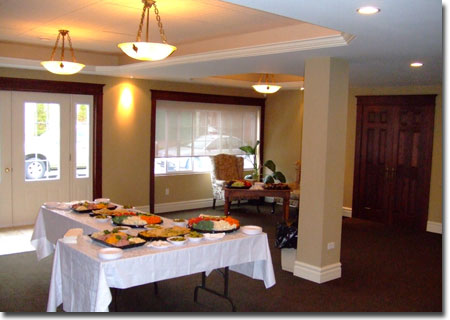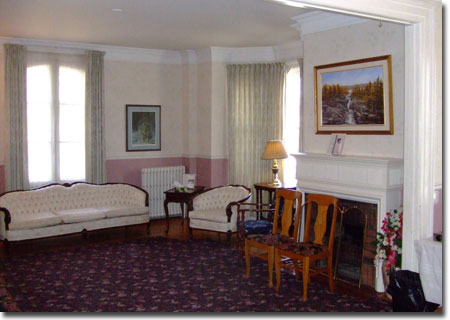 Regardless of having a traditional service or a memorial service, a reception allows the sharing to continue in a relaxed environment. Our Reception Centre is a beautiful century home with plenty of space and parking. We have wonderful catering options with something for everyone. Receptions have also occasionally taken the place of the memorial service. Some families like the relaxed environment to have a place for their friends to "drop" in to.
Direct Cremation or Burial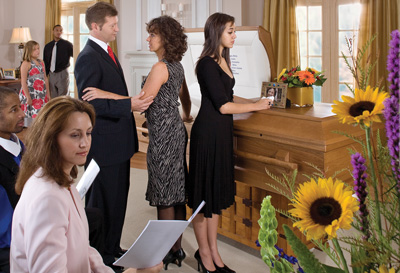 This is a basic service with no visitation or viewing and no service.
There is such a wide variety of services and options to select from that it is best to speak to a funeral director so that you fully understand your options and can make an educated decision.
Other terms that may come up when discussing your options:
Family Gathering

A time designated for your immediate family to be together at the Chapel prior to public visitation and Service/Mass. The length of time is determined by the family, whether it be to become as comfortable as possible to the surroundings, share stories, create a personalized environment in the suite to your wishes etc.

Public Visitation

A scheduled day(s) and time(s) that are extended to family and friends to pay their respects, offer support or just to be with you. Families are encouraged to personalize this time with whatever they deem reflects the individuals life… photos, hobbies, DVD presentations etc.
It is important to realize that without public visitation, what might have been hours can turn into days, weeks and months. People will offer their support the next time they see you whether it be at the grocery store, bank, mall etc.

Service/Mass/Life Celebration

This is a scheduled time when the life is reflected. This may take place at one of our Chapels, Church or other location relevant to the individual. It is important to bring closure no matter whether those in attendance is family, invited guests or open to the public.

Burial or Cremation

The disposition of the Deceased does not reflect whether or not there is a Family Gathering, Public Visitation or a Service/Mass/Life Celebration. One is simply an alternative to the other.

Advance Planning

For your convenience and as a way to assist your family, Advance planning offers you an opportunity to record your wishes and directions to your family. It is a distinct means to be of help to your family when you are not there to do so. There are plans available for every budget. Read more about Advance Planning.

Aftercare

This is one of our services after the service. Our Aftercare Director meets with you to assist in initiating settling of the Estate. We will assist you in applying for government funds, cancelling credit cards, policies and subscriptions.