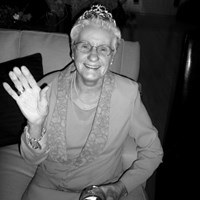 Rita Evelyn Cote (Nee Laurin) March 5, 1924 – May 9, 2023
With heavy hearts we announce the peaceful passing of Rita Evelyn Cote (Nee Laurin) of Midland, On. Monday May 9, 2023 in her 100th year surrounded by her family at Tomkins House (Hospice Huronia), Penetanguishene, On. Beloved wife of the late Albert (Bert) Cote for more than 60 years.
Born and raised in Lafontaine, she is predeceased by parents Phillipe Laurin and Odianna Robitaille, brothers and sisters Simion Laurin, Urgele Laurin, Martial Laurin, Elianne Moreau, Claudia Moreau, Anita Robillard, Cecile Quesnelle, Exilda Desroches, and Theresa Bourgeois. She will be deeply missed by all her surviving nieces and nephews as well as countless friends.
Cherished mother to her seven daughters and four sons: the late Doreen Contois (Frank), Nelson Cote (the late Joyce), Neil Cote (Debbie Morris), Raymond Cote, Madeline Matheson (Duncan), B.J. Sheba (Steve), Katherine Blake (Patrick), Theresa Cote-Lindberg, (Jeff), Anita St. Amant (Peter), Peter Cote (Madeleine) and Michelle Moore (Simon). Rita will be dearly remembered by daughters-in-law, Emily, and Pauline.
Devoted Memere to grandchildren: the late Michael Contois, Tammy Sagan (Randy), Nicole Donner (Neil), Jehne Trottier (Trevor), Darryl Cote (Lorie), Darcy Cote (Tammy), Gizelle McLane (Aaron), Chantale Cote (Chuck), Jacob Cote (Jennifer), Danielle Cote, George Cote (Cindy), Albert Cote (Christine), Don Cote (Amanda), Michael Cote (Ginny), Kamerin Gardzinski (Tom), John Matheson (Elisa), McKenzie Leadbeater (Craig), Kyle Blake (Rebecca), Justyne Sheba-MacIsaac (Gord), Benjamin Cote, Luc St. Amant (Caitlyn), Spencer St. Amant, Marc Cote, David Cote (Brody), Charlie Moore, Alex Moore; great-grandchildren, Joshua Sagan (Stephanie), Tyler Sagan, Jessica Trottier, Nathan Trottier, Jack Cote, Sadie Cote, Mathieu Jackson (Shannon), Justin Jackson, Mackenzie Darco (Jeremy), Madison Cote (Zack), Andrew Cote, Lauren Cote, Joshua Cote, Isabelle Cote, Cassidy Fearon, Lidia Fearon, Zack Cote, Andrew Cote, Nicolas Cote, Ethan Cote, Jaxon Cote, Avery Cote, Olivia Cote, Chelsea Cote, Forest Matheson, Aurora Matheson, Rosie Gardzinski, Sullivan Gardzinski, Malina MacIsaac, Nora Jane Leadbeater, Harvey Leadbeater, Abella Cote, Emmett Cote, Micah Cote, Owen St. Amant, Logan St. Amant, and little angels in heaven, Ali and Taylor Cote, Mishka Cote and Watson MacIsaac and great-great-grandchildren: Bryne Jackson, Lucas Jackson, Noah Cote-Walling, Lilah Cote-Walling, Haily-Mae Sagan and Bodhi Sagan.
Rita was devoted to her family, her faith, and her community. She was an extremely talented seamstress, well known for her knitting, dressmaking including bridalwear, and her beautiful quilts. She was highly celebrated and recognized within the community for her countless hours as a volunteer. Though be it a farm girl, Rita developed a passion for Georgian Bay, boating, fishing, and life at the cottage. And let's not forget her number one seller "I Cried at My Wedding, Les MeMoires de Rita (Laurin) Cote", which she wrote at the age of 80. She was a beautiful blessing to all who knew her and will be missed by all.
Visitation will be held at Lynn-Carson Funeral Home, 290 First Street, Midland, On, on Tuesday May 16, 2023 from 1:00 p.m. to 4:00 p.m. and 6:00 p.m. to 8:00 p.m. Prayers at 2:30 p.m. A funeral mass will be held at St. Margaret's Catholic Church, 589 Hugel Ave., Midland on Wednesday May 17, 2023 at 9:30 A.M. Followed by interment at St. Margaret's Cemetery, Midland. The family would like to express their sincere thanks and appreciation for such wonderful and compassionate care provided by Dr. Pinto and the wonderful earth angels at Tiffin House (Midland) and Tomkin House (Hospice Huronia). In lieu of flowers, if desired, donations to Hospice Huronia would be greatly appreciated.
Service Arrangements
Visitation
Funeral Service
Interment
Reception
Send a Condolence
Thank you, your condolence will be passed on to the family.
To send another condolence, please refresh the page.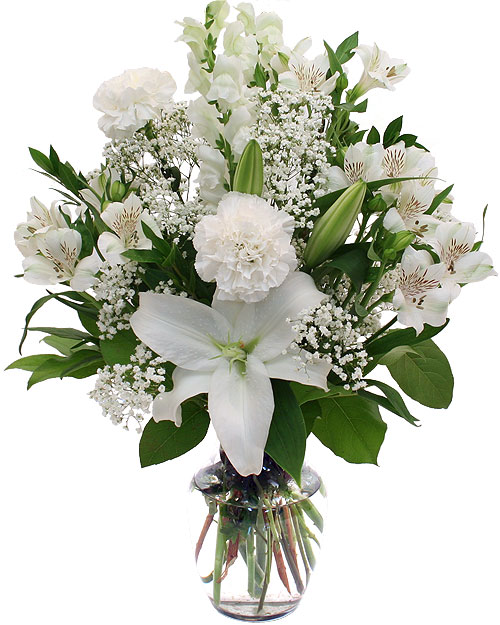 Send Flowers →