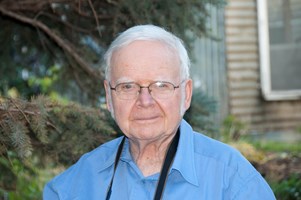 B. C. (Bert) de Kat, LSMIEEE, P. Eng. VE3 DPB
(based on Bert's biography, "On the Farm")
Bert was born 24 June 1931 at Mannville Municipal Hospital, "No. 1", a typical small-town prairie hospital in Alberta. The depression was in its second year. Bert's Dad, Maximiliaan de Kat met his wife, Sijke de Boer in France but both were Dutch. They moved to Canada in 1928 and 1929 and were married as soon as Sijke arrived in The West.
The de Kat family farm did not have electrical service until after the Second World War. Even so, Bert was fascinated by machinery. Living on a farm, Bert and his sister Maxine rode to a one room schoolhouse by horseback. About the time of the first atomic bomb tests Bert built his first working radio, at a work bench in his bedroom. It received station CJCA, one hundred miles away in Edmonton. In1945, a neighbour gave Bert an I.C.S. (International Correspondence) book about telephones and telegraphs. This little book, regardless of its musty smell, inspired Bert to become an Electrical Engineer.
High school in the Alberta prairies was a bit of a bind for Bert. Physics and chemistry, etc. were almost unheard of. During high school he earned pocket money running a small radio repair business and studied to pass his amateur radio exam. French lessons may have suffered while Bert was engrossed in building a home-made radio receiver and transmitter.
Bert had no formal training in radio repair but thanks to books borrowed from the University of Alberta library he became very experienced. In the spring of '49 the de Kat family bought the Hardware Store and moved into town, where they finally had electric power for Bert's experiments. By the fall of '49 Bert received his amateur radio licence. Call sign VE6HI. The day the radio licence arrived in the mail was an unforgettable moment in his life.
June 1950 Bert graduated from Mannville High school. Not able to complete the required three years of a French lessons, Bert was technically a high-school dropout, but his amateur radio licence allowed him to take on a job as transmitter operator with radio station CFRN in Edmonton. The schedule was 24 hr on 48 hr off. A year later Bert switched his job to CN Communications in Edmonton as an equipment installer, travelling to various places in Alberta, B.C and the Yukon.
From 1953 to 1955 Bert attended the Provincial Institute of Technology and Art (now called SAIT) in Calgary, Alberta and obtained a diploma in electronics technology. Electrical engineering was his choice of vocation.
Upon graduation Bert was hired by Canadair Ltd., in Montreal. Here his principal job was working with the crew installing instrumentation in the first "Argus" airplane for its flight trials.
From Canadair Bert moved onto the RCA Research Labs in Montreal. He worked with a team that was involved in determining the equivalent circuit of the RCA "drift" transistor, somewhat of a breakthrough at RCA.
In Montreal, Bert met Joan Sumner, got married and had their first son, Frank (1959). Bert and family then moved to Saskatoon to join the support staff of the electrical engineering department at the University of Saskatchewan.
In 1963, the University of Toronto pioneered the Institute of Bio-Medical Engineering. Bert, one of their first employees, spent twelve years working as their Engineering Technologist. Norman Moody was the Director of the Institute and Bert's boss at both U of Saskatchewan and U of T.
Norman encouraged Bert to write the Ontario Professional Engineering exams which took about six years of Bert's spare time. (Exams every April from 1967 to 1973) Bert went to his Iron Ring ceremony wearing a ring he crafted himself.
Meanwhile Bert and Joan had more children. Peter (1961), Barbara (1963) Philip (1969) and Valerie (1971).
In the early seventies Bert formed his own company, Bio-Tech Co. It provided an engineering service designing instrumentation and a facility for constructing prototypes of designs. Clients were from the medical, environmental, and industrial fields. Manufacturing the Microbiological laboratory device he patented and trademarked "Replicator" (Canadian patent No. 990101, 1976), became the bulk of his early invoices.
In Bert's own words: "The item I patented was a result of having lunch with the chief of microbiology at the Sick Children's Hospital. After much discussion about their problems an idea came up in my mind like a photograph. I could imagine much of the detail before it was ever made. If only words would come so easy! Engineering is a creative profession and I love to create. It gives me a "high". My sister, who is an artist, feels the same way about creativity. I am sure writers can share the same feeling."
Bio-Tech Co. was originally registered in Toronto and located in the basement of the family home. Shortly after its formation, the company (and the de Kat family) was relocated to larger premises in Lynden, ON. Bert and the family enjoyed the rural life Bert had experienced as a child. The whole family was involved in Bio-Tech in various capacities, as their abilities allowed them.
As the children grew older, Bert and Joan grew apart and divorced. Bert moved Bio Tech to Hamilton and in 1990 re married. His new wife, Gwen Murphy helped him set up Bio-Tech again, in Troy, Ontario, where it remained until Bert retired, during the pandemic of 2020, at 90 years old.
Gwen's daughters Carolyn (Fred) and Kathy (Dennis) and their families actively shared in Bert's life. Along came Gwen (Adam, Jonah, Caleb), Claire (Ryan), Kevin (Erin), Cailey (Thomas), Kristen (Logan), Colin (Nicole) and Justin.
Bert's family grew too: Frank, Peter & Linda (Jonathan & Kara) and (Naomi & Luke (Paige)), Barb & Gerry, Philip, Valerie & Dave (Daubney (Julien) and Emalyn).
Bert, a typical Dutchman was proud of his heritage. He leaves his sister Maxine (Ed Abraham) of Calgary, Alberta and her sons and grandchildren: Alan & Elham, (Armaan, Ariana) John & Deborah, (Sean, Stephen) and Phillip & Carla, (Luke, Juliana). Bert and Gwen were regular visitors to the family in Alberta and B.C. and to Holland, to visit the cousins.
Bert was an active member of the Toronto Society of Model Engineers, Hamilton Model Engineers Club, London Vintage Radio Club, IEEE Life Member, Professional Engineers of Ontario, Grand Valley Group of Engineers, the Hamilton Chapter of the Tetra Society, Lynden Crusaders, Antique Wireless Association, ARRL and AMSAT Life Member. Many club members became colleagues and lifelong friends, mentors, and mentees.
Bert and Gwen, and their camper for awhile, attended the North American Model Engineering Exposition and Cabin Fever Expo, where Bert won many awards for his miniature model Stirling Engines. Bert was able to present and /or publish several of his papers at Dayton HAMvention, VHF Conference, Radio Society of Ontario, ARRL and ICOM 1984 in Tokyo, Japan.
Family and friends will sadly miss the adventures of an entrepreneur Dad/ Popa/ Grandpa Bert/Uncle Bert. Bert's success from a farm in rural Alberta to working with satellites and pioneering biomedical technology is inspirational. The ups and downs of freelance work, the business trips with the family in tow and the colleagues who became friends.
A life well lived.
In lieu of flowers, donations would be happily accepted by the Tetra Society of North America, Eastern Region (Hamilton), one of Bert's pet projects. "At Tetra, our focus is to find solutions to environmental barriers faced by people with disabilities. While these environmental barriers are a part of a person's journey, we believe Tetra solutions help foster greater independence, quality of life, and inclusion."
Eastern Region - Tetra Society of North America
Arrangements entrusted to the Carson Funeral Homes L. Doolittle Chapel, 54 Coldwater St. E., Orillia (705) 326-3595.
Send a Condolence
Thank you, your condolence will be passed on to the family.
To send another condolence, please refresh the page.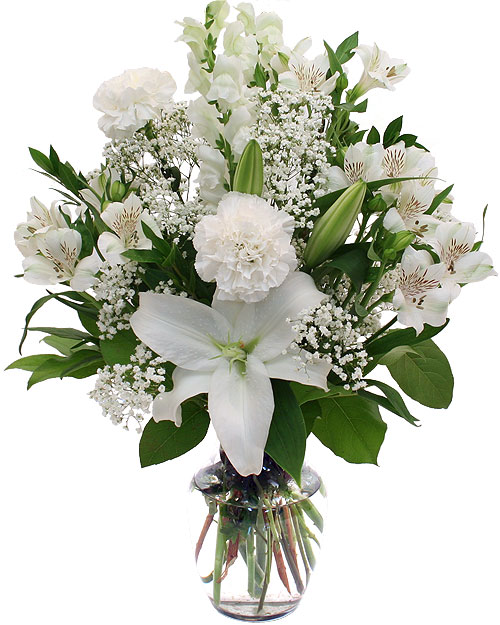 Send Flowers →