Patricia Joan Tumber was born on the 27th of January, 1926 in Stanleytown, Wales, daughter of Percy George Tumber (a Welsh coalminer and WWI Veteran) and Clarice Mary Whitehouse, sister to Cliff, Virginia, Dennis, Terry, and Joy. She died on May 8th, 2018, in her 93rd year in Orillia, Canada. Her papers show an interesting life – letters from the Princess Elizabeth who became and is still Queen of England, poems she enjoyed, Biblical notes of importance to her, articles on the war, articles on women in the armed forces, copies of letters she wrote to support military awards, and interesting old photos of family members. Lying about her age, Patricia Joan left home at 15 to join the war effort with the air force, never to have a full family group meeting again with all of her siblings which she outlived –her sisters did not join the armed forces. Her full time academic studies stopped. She enlisted in the Women's Auxiliary Air Force (WAAF) on 27 Feb 1941 and worked on repairing parachutes before she was transferred to the Instrument Section and later the Armoury where she worked on Browning machine guns. As an Airwoman, mom served in the Noah's Ark Caves, River Station, Dover Castle, Connaught Barracks, and Wick. Earning medals for her full service in WWII as ACWII and a wireless operator (communications before computers) she earned a full status as a Veteran and was a member of Legions for well over 60 years and had earned the right to wear her military medals on the left side of her blazer over her heart. Family archives have an article written by her granddaughter Tracy who wrote the article as a high school project after interviewing her as a veteran – she did a great job. During the war, at age 17, she married a 25 yr old soldier, Samuel Musk Loraine, then went back to service. After the war, and just after Hurricane Hazel in 1954, Patricia Joan came to Canada on the SS Samaria with 3 young children 5 to 8 yrs of age, as her first husband Sam got a job working on the Avro Aero. Patricia Joan outlived her ex-husband (War Substantive Regimental Staff Sergeant then WOII in the Royal Engineers Regular Army, Samuel Musk Loraine from England), her second husband (Royal Signal Core and WWII Prisoner of War in Camp 14 at Karlsruhe Germany, Alexander Reid from Scotland), and her third partner (RCA Royal Canadian Artillery Gunner in WWII Captain Jack Lowday from Quebec then Orillia, Ontario, Canada). She came to life around veterans and this allowed her to continue to process her memories. PTSD was evident when she fell to the ground in tears in her 80's as drunken neighbours setting off potato guns. Following the death of her second husband she moved to Orillia in 2001. Moving to Orillia's Legioncrest Apartments was a good move for her and she enjoyed the friends she made there (Lois, Janet, Shirley, Jack and Marilyn). She and her friends enjoyed taking trips to places like Collingwood for apples and plums, and to various events with family and friends, especially if food was served. In the last 15 yrs she struggled with Heart Failure, Diabetes, HBP, Emphysema, Glaucoma, and mobility issues. She is survived by daughter Heather (Robert) Bowden of Havelock, daughter Trish (Norm) McCracken of Orillia, and son Hugh (Nancy) Loraine of Vallentyne, all in Ontario. She had 8 grandchildren: Tori (Arno) Lippassaar, Tracy (Graham) Gordon, Stephen (Theresa) Bowden, Bradley (Lucy) Bowden, Jacqueline (Chris) Bailey, Gina (Christopher) Loraine-Salazar, Ariel (Pad) Loraine, and Robin Loraine. She had 14 great-grandchildren: Laurel Gordon, Alex Lippassaar, Taylor Bowden, Kyler Lippassaar, Hailey Bowden, Taylor Loraine-Garringer, Johnathon Bowden, Matthew Bowden, Stella Bailey, Abigail Loraine-Salazar, Jake Gordon, Zachery Bailey, Rory Loraine and Charlotte Loraine-Salazar. Her life course was critically impacted by WWII and its aftermath. Her decisions to leave home too early, to take her children and follow her husband's career to live in the Middle East and then Canada with the Avro Aero fiasco impacted her children who grew up with parents with WWII PTSD and no extended family support or relationships. She will be remembered for how she could imitate accents from the various UK countries, how serene she became when she sang the Welsh National Anthem (Land of my Fathers) and how quick she could pronounce the village in Wales called llanfairpwllgwyngyllgogerychwyrndrobwllllantysiliogogogoch (one word). She also identified with Queen Elizabeth and loved the monarchy. So in the spirit of how she lived life, her funeral will be held in separate memorials as each of her children and their children decide how they want to recognize the passing of the family matriarch and their memories within their own community of friends and family. All she wanted was cremation and her ashes buried under a red maple tree. She will rest in Thunder Bay and a Christian memorial service will take place there. We ask that you savour the memories of the good times with her. Anyone wishing to have the full CD of photos of Patricia Joan collected over the years, a copy of the PowerPoint Tribute, or a copy of the article written by Granddaughter Tracy can contact the executor Trish Loraine McCracken via mccracken@bellnet.ca . We thank the staff at the Leacock Care Center who made mom's final years comfortable and arranged gatherings such as the Mothers' Day Tea and the Christmas Tea as these events brought her children together to see her. We send a strong thank you to Helen Izzard at Leacock Centre. We thank Veteran's Affairs Canada and Blue Cross VIP programs for making the British Commonwealth Veteran more comfortable. We thank Toothpicks, the travelling dental service, Giselle Daghri for specialized foot care, the amazing Dr Julian Porter of Orillia for his caring support of her health needs and for the fun banter he shared with mom, and for the caring staff at Carson-Doolittle Chapel.
Send a Condolence
Thank you, your condolence will be passed on to the family.
To send another condolence, please refresh the page.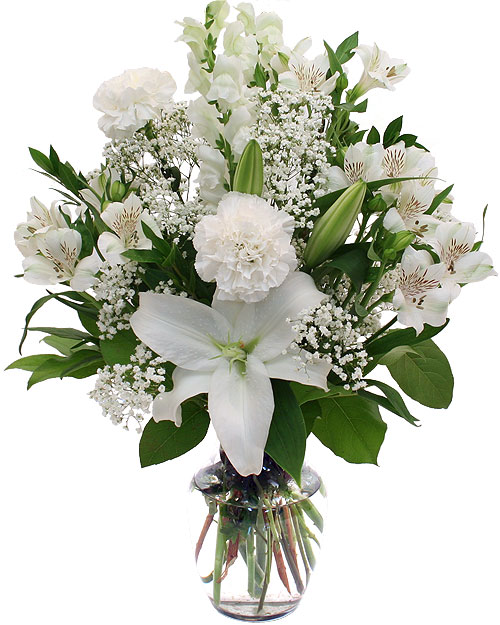 Send Flowers →