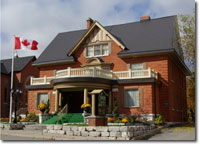 With over 80 years of serving Orillia and the surrounding area, we have earned a reputation that is built on the services we provide – care, consideration, and respect. With such longevity, you may ask yourselves what makes a funeral home successful. Or more to the point:
Why should I choose Carson Funeral Home?
When comparing funeral homes, the first point that comes up is always the people.
The L. Doolitle Chapel has always been, and remains today a family business. Since the days of Lorne Doolittle and George Crawford, the family traditions of trust and care have continued. We are very proud of the family and staff here, and you should know that here you will always be treated like family. ( Learn more about our staff )
The second aspect that comes to mind is the facilities.
Are they comfortable and welcoming? The minute you walk through the doors of the L. Doolittle Chapel you will feel the family touch. We are constantly told how "the funeral home just doesn't feel like a funeral home". We would like you to be the judge. A spacious chapel, warm and tastefully decorated visitation rooms and washrooms, and precious wood and antiques all soften this large, historic facility.
The third and final consideration when people choose Carson Funeral Homes is value.
Since the days of Lorne Doolittle, and George Crawford there has been a tradition of not only care but of affordability. This tradition remains today with the Carson Family. We continue today to provide services to all who shall require them, regardless of ability to pay. We will work with you to remain within your budget while at the same time still providing a meaningful service for you and your loved ones.
We here at Carson Funeral Home urge you to compare, and when you do we will be here to help. For Service and Value always above what you expect, the only name you need to know is Carson Funeral Home.
Facilities
In 1923, Lorne Doolittle, of Severn Bridge, opened his first funeral home on Coldwater Road, just east of West Street. He moved to a second location at the corner of West Street and Coldwater Road in 1932. In 1948, George Crawford joined the business. It became Doolittle Funeral Home - Crawford Chapel. In 1978, Crawford purchased the present location at 54 Coldwater Road, a home belonging to Dr. Walter Woodrow. The home was originally built for Dr. A.P.Ardagh in 1906, designed by well-known architect C.J.Gibson of Toronto. Crawford modified the home to suit the funeral business, but wisely kept the architecture and character of the building.
In 1982, Robert and Ann Carson, after a career that began at the Humphrey Funeral Home in Toronto and later with their own small funeral home in Brooklin, Ontario - near Whitby, Ontario - decided to buy the business. Even though he had several higher offers on the table, George Crawford decided to sell to the Carson's, who pledged to continue the tradition of service and care established by both the Crawford's and Doolittle's. It's a promise the Carson family has worked diligently to keep.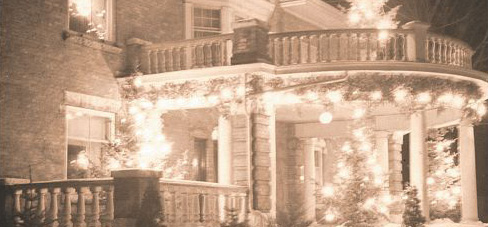 Carson Funeral Homes L. Doolittle Chapel celebrates the 100th Anniversary of their building.
Read →